RARE DISEASE DAY 2020 – FEBRUARY 28, 2020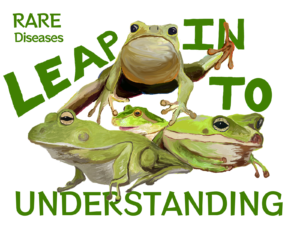 We welcome everyone to join us in Calgary or on Facebook live stream (click here) to share information and life experiences of people with a rare disease! More than 3.5 million Canadians or roughly 10% of the population has a rare disease.
Optional networking dinner purchase available
Get information from local and international organizations
Participate in a small group session for shared learning
Create an information packet for a topic that interests you
Send us your artwork and we will make stickers for everyone
Send us your logo for a group logo shirt
Door prizes available
Optional reduced admission at Glenbow museum (only for registered guests)
PROGRAMME
11:30-12:00 Poster Viewing
12:00-12:20 Welcome and Introduction (Dr. Aneal Khan)
12:20-12:40 Western Canada Metabolic Disease Network (Dr. Cheryl Greenberg)
12:40-1:00 Going the distance as a rare parent advocate (David Proctor)
1:00-1:20 Urea Cycle Diseases (Dr. Ramona Salvarinova)
1:20-1:30 Discussion
1:30-2:00 Refreshments and Activities
2:00-2:30 Small Group Sessions (may be revised depending on number of registrants)
Low Protein Diets / Phenylketonuria – Metabolic Dietitians
Supports for Families – Brady's Foundation for Pediatric Palliative Care
Managing Medications – Christy Gilkes
Coping with Fabry Pain – Dr. Aneal Khan
Genetic Counselling – Heather Barnes
2:30-3:00 Living with Pompe disease (Brad Crittenden)
3:00-3:20 When life is short with a rare disease (Jaclyn Tainsh)
3:20-4:00 Leap into Understanding and Action
4:00-4:30 Prizes
5:30-7:00 Dinner at Milestones (Extra Ticket Purchase Required)
If you are attending this event, you can show your Eventbrite ticket at the front desk to get a special rate to see the Glenbow Museum before the start of the rDNA event.
For Rare Disease organization, if you are interested to have your organization logo on our group logo shirt, you will be contacted by our Event Planning Committee for further details.
For parking and wheelchair access, the best option is the Telus Convention Centre lot 60 located right across the street from Glenbow Museum.